Job Summary
| | | | |
| --- | --- | --- | --- |
| Category: | Social Sciences | Entry Experience: | 15 years |
| Job Type: | Contract | Positions: | 1 |
| Min Qualification: | Masters | Salary: | Undisclosed |
| Entry Level: | Management Level | Date Posted: | Feb 8, 2023 |
| Location: | NAIROBI | Apply Before: | Feb 27, 2023 |
| Views: | | Days Remaining: | 96 days elapsed |
Brief About Employer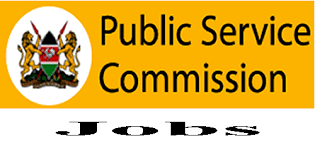 Public Service Commission
Job Description
REQUIREMENTS FOR APPOINMENT
For appointment as Government Spokesperson, a candidate should:
(i) be a Citizen of Kenya;
(ii) have served for a minimum period of fifteen (15) years as a media or
communication practitioner, three (3) of which should be in the grade of Director,
CSG 5/Job Group 'S' and above or in comparable and relevant position in the
wider public service or private sector.
(iii) have a Bachelors degree in any of the following fields: Public Relations,
Journalism, Communications and Media Studies, Social Sciences or equivalent
qualifications from a university recognised in Kenya.
(iv) possess excellent verbal and written communication skills;
(v) demonstrate an indepth understanding of the National development goals,
policies and objectives, including the Government's transformation agenda;
(vi) be fluent in both spoken and written English and Kiswahili;
(vii) be a member of a relevant professional body and in good standing(where
applicable).
(viii) meet the requirements of Chapter Six of the Constitution on leadership and
integrity; and
(ix) demonstrate ability to think strategically and respond effectively to changing
circumstances.
Note: Possession of a Masters degree in any of the following disciplines: Mass
Communication, Communication Studies, Information Sciences, Public
Relations, Journalism, Media Studies, Social Sciences or equivalent
qualifications from a university recognised in Kenya will be considered as
an added advantage.
DUTIES AND RESPONSIBILITIES
The Government Spokesperson is responsible to the Principal Secretary for communicating
government policies, programmes, and initiatives to the public through media channels. The role
requires the individual to at all times represent the Government in a positive and professional
manner to the media and the public. The main duties of the Spokesperson include:
(i) propagating Government policies and initiatives by providing timely and accurate
dissemination of information;
(ii) creating synergy, partnerships and collaborations with creators and consumers of
government information including the media fraternity;
(iii) publicizing Government programmes and projects through media and
community engagement;
(iv) responding to inquiries from journalists and media outlets about Government
actions and decisions;
(v) drafting and distributing official statements, press releases, and other
communications materials;
(vi) representing the Government at press conferences, media interviews, and other
public events;
(vii) monitoring news coverage and tracking public perceptions of Government
policies and initiatives;
(viii) collaborating with other Government agencies and departments to coordinate
messaging and ensure consistent communication; and
(ix) advising Government officials and decision-makers on public relations and media
strategies.
How to Apply
MODE OF APPLICATION
Interested and qualified persons are requested to make their applications ONLINE
through the Commission website: www.publicservice.go.ke or jobs portal:
www.psckjobs.go.ke
Please Note:
(i) Applicants should provide all the details requested for in the advertisement. It is an
offence to include incorrect information in the application. Details of academic and
professional certificates not obtained by closure of the advert should not be
included.
(ii) Only shortlisted and successful candidates will be contacted.
(iii) Canvassing in any form will lead to automatic disqualification.
(iv) The Public Service Commission is committed to implementing the provisions of the
Constitution - Chapter 232 (1) on fair competition and merit, representation of
Kenyans diverse communities and affording equal employment opportunities to
men and women, members of all ethnic groups and persons with disabilities.
THEREFORE, PEOPLE WITH DISABILITIES, THE MARGINALIZED AND
THE MINORITIES ARE ENCOURAGED TO APPLY.
(v) Shortlisted candidates shall be required to produce originals of their National
Identity Card, academic and professional certificates and transcripts during
interviews.
(vi) It is a criminal offence to present fake certificates/documents.
(vii) Serving officers shall be required to produce the original letter of appointment to
their current substantive post during the interview.
Applications should reach the Commission on or before 27th February, 2023 latest 5.00 pm
(East African Time).
Apply Now
You need to login to apply for this job. If you already have an account with us, please proceed to login below.
Do not have an account? Proceed to click on 'New User? Register Now' link below.
Login to apply
Advertisements