Job Summary
| | | | |
| --- | --- | --- | --- |
| Category: | Social Sciences | Entry Experience: | 3 years |
| Job Type: | Full time | Positions: | 1 |
| Min Qualification: | Bachelor | Salary: | Undisclosed |
| Entry Level: | Senior Level | Date Posted: | Aug 17, 2023 |
| Location: | NAIROBI | Apply Before: | Sep 5, 2023 |
| Views: | | Days Remaining: | 17 days elapsed |
Brief About Employer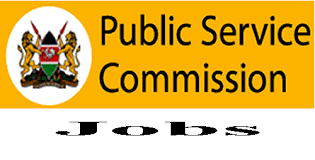 Public Service Commission
Job Description
For appointment to this grade, a candidate must have: -
(i) served for a minimum period of three (3) years in the grade of Deputy Government
Chemist CSG 6, or in a comparable and relevant position in the wider public
service or in the private sector;
(ii) a Bachelor of Science degree in any of the following disciplines: Chemistry,
Forensic Science, Biochemistry or equivalent qualifications from a university
recognized in Kenya;
(iii) a Masters Degree in any of the following fields: Chemistry, Biochemistry or
Forensic Science from a university recognized in Kenya; and
6
(iv) demonstrated high degree of administrative capability, technical and professional
competence as reflected in work performance and results.
Duties and Responsibilities
Specific duties and responsibilities include:
(i) participating in policy formulation and implementation;
(ii) providing guidance on strategic direction for all matters pertaining to
quantitative and qualitative analytical services and water quality and pollution
control services;
(iii) ensuring adherence to professional standards;
(iv) coordinating budgeting and costing for technical services;
(v) developing procedures on the provision of the technical services and initiating
the development of the modern information communication technology in the
provision of chemists services;
(vi) coordinating the development and implementation of strategic/work plans for
the department; and
(vii) overseeing training and development of technical personnel
How to Apply
Register and login with your applicant or student account to access the ability to upload your C.V and apply for a job.
Apply Now
You need to login to apply for this job. If you already have an account with us, please proceed to login below.
Do not have an account? Proceed to click on 'New User? Register Now' link below.
Login to apply
Advertisements